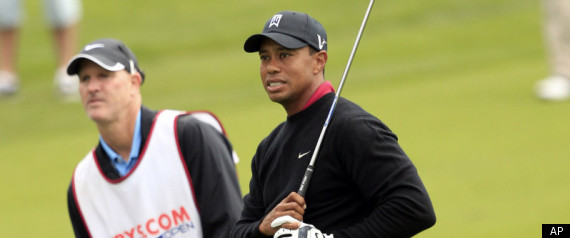 Golf fans are suppose to be one step higher on the hierarchy of sports fans. Following an incident at the Frys.com Open with Tiger Woods, golf fans will be losing some prestige today.
Similar to a MLB fan streaking across the field during live play, one golf fan decided to streak across the course towards the green to get to Tiger Woods. In doing so, the fan was carrying an object that many sports fans have typically held once before during their own viewing of a sporting event. As he ran towards Tiger Woods he decided to throw the object into the vicinity of Tiger Woods on the seventh green during his final round.
"When I looked up, the already in the air," Woods said. "He was pretty far away from me."
A hot dog?
Tiger Woods was prepared to putt when the fan decided he was either disgusted with his hot dog or with Tiger Woods 2011 PGA season. Players bun fell short of where Woods was standing, while the actual wiener (not talking about Tiger Woods) went onto the green.
After the fan threw the hot dog, he realized he was a bonehead. He then dropped to the ground and let the security for the tournament take him into custody. He will surely be arrested and sent to jail for the incident.
Hopefully there weren't any condiments on that hot dog, or this situation could get really messy.
Other Stories: Go inside the Red Sox collapse
- Walter White Kills Gus (Video)
- Texas Rangers celebrate walkoff like a Porno
- White Sox nearly hire Player-Manager
- Spurrier hates Writers and Stephen Garcia
- Tebow to be Honorable Week 7 Starter
- LSU Star calls UF QB "Soft as Cotton"
-
"Throw The V" for Idaho
-
Curse of Cliff Lee is Real
-
Youtube Legend Cody Paul has 0 Offers
-
MSU Player pees on Georgia's Hedges
-
Josh Hamilton apologizes to Rays Staffers
-
How will Jerry Jones drink this weekend
-
PGA Golfer misses Tee Shot
-
College Gameday Signs (Tex - Okla)
-
College Gameday Signs (Neb - Wisc)
-
College Gameday Signs (WV - LSU)
-
College Gameday Signs (FSU - OU)
-
Congress Meddles with NFL HGH Testing
Sorry Bro Sports
(
www.SorryBroSports.com
) is where you can get all breaking news or rumors around all type of sports. With a nice blend of humorous videos, gifs or images from sports. SorryBroSports has 0 off days. For quicker breaking news, you must follow me on Twitter. Or if you have a scoop or interesting thoughts about sports, message me there. Bookmark
Sorry Bro Sports.