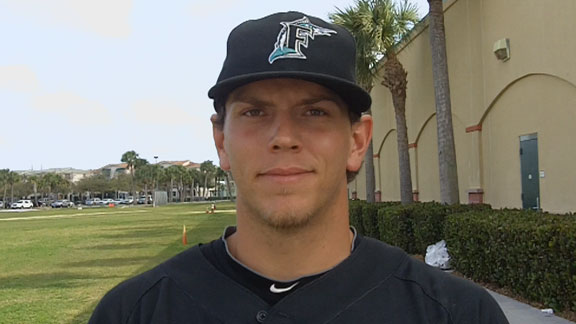 Talented prospect Logan Morrison was making a big name for himself on his Twitter and on the field with his powerful swing. He was expected to be in the majors until the day he retired.
Suddenly last night, the Florida Marlins decided to send one of their premier prospects back into the minors with only one and a half months remaining of the MLB season. No one knows the truth why (unless you really believe the Marlins when they say it is due to his .249 batting average), but one reporter may have solved the mystery.
Based on my conversations with people, there were some events leading up to the demotion that had to do with team-related promotional functions. To be clear, the Marlins said they optioned LoMo to New Orleans because he was batting .249.
Earlier in the day, he refused to participate in a photo session with season ticket holders at Sun Life Stadium. That might sound surprising, given Logan's outgoing personality and popularity with fans, but apparently there were some hard feelings related to earlier promotional activities.

I know that this past Thursday — a Marlins off day — Logan canceled a charity bowling tournament in Miami because he said the Florida Marlins Community Foundation "dropped the ball" and didn't sell enough lanes in advance.
Did the Florida Marlins want to just "shut-up" Logan Morrison and send him back to the minors? Maybe the Florida Marlins took taking photos with season ticket holders as an obligation for their players since their fanbase remains one of the worst for now to until they
enter their new stadium
next year?
Morrison was their second best power hitter according to the team stats this year, with his 17 HRs along with 60 RBIs. Even he is unaware as to the real reason why he was demoted last night, telling the media:
"Because I was hitting .240. Yeah. That's what they said. So. I don't know if that makes any sense to me or to you guys but all I know is I go out and I give everything for this team. I play hurt, I play through injury and this is how you get treated. It doesn't seem very fair or right to me."
Usually a MLB team would tell he player, we're demoting you because you need to work on your fielder or confidence. Logan Morrison believes he was sent down due to those "off-the-field" issues.
Mike Stanton, never turn down taking a picture with season ticket holders this month, wait until after September call-ups. Unless they
are like this fan
and punch you in the back during a game.
Sorry Bro Sports
(
http://www.SorryBroSports.com/
) is where you can get all breaking news or rumors around all type of sports. With a nice blend of humorous videos, gifs or images from sports. SorryBroSports has 0 off days. For quicker breaking news, you must follow me on Twitter. Enjoy.
UPDATE: Logan Morrison pondering about a grievance against the Marlins for the demotion. (Interesting.)