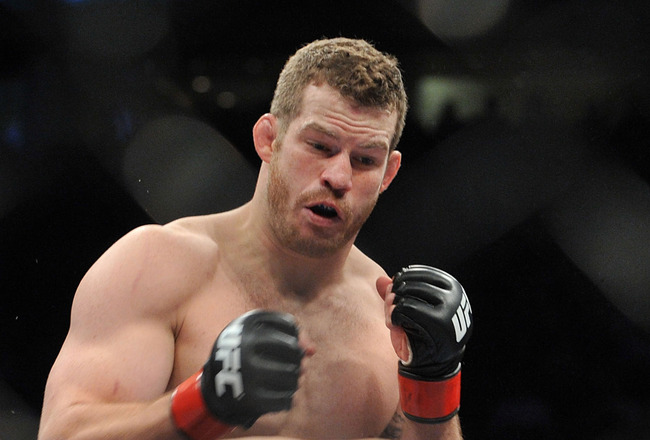 The one-time former UFC Middleweight championship challenger Nate Marquardt will not be debuting at Welterweight on Sunday for UFC on Versus 4. He was supposed to be the main event draw for the card against Rick Story, but was a late scratch on Saturday just hours before weighing in to make the fight official.
There is no yet for the withdrawl, but pictures of him before he tipped the scales speculate a bad weight cut. "He was not medically cleared. It is nothing serious," said Kelly Crigger, a representative of Marquardt's management team at Alchemist Mixed Martial Arts. "Nate is really disappointed," the statement from his camp reads. "He really was looking forward to making his welterweight debut, and he plans to be back in there as soon as possible."
Once again the MMA injury bug continues to plague the sport's biggest stars on this card. The main event was supposed to be Nate Marquardt versus Anthony Johnson on Sunday night. Though Johnson had to pull out of the fight a month ago and was replaced with Rick Story to face Marquardt.
Now Charlie Brenneman will be replacing Marquardt in a fight with Rick Story Sunday night. No longer will it be the main attraction, as the heavyweight show down between Pat Barry and Cheick Kongo will be promoted to that position.
UPDATE:
UFC commentator Joe Rogan announced that Marquardt failed his phyiscal.
NATE MARQUARDT WILL NO LONGER BE IN THE UFC DUE TO FAILED PHYSICAL. Crazy News. (Steroids? Career-ending injury? Rumor is Marquardt could only reach 181 pounds.) Someone will find out the truth. Here is video of Dana White confirming the news. (Below all updates)
Nate Marquardt's tweet Sunday, "
I'm sorry to all my fans and the UFC for not passing the medicals for tonight's fight. I'm heart broken I couldn't fight, but I will b back."
Dana White was on the Versus pre-fight show and stated only "Nate Marquardt can confess to why he will never fight in the UFC again." So the medical issue will only become public if Nate confesses to the media publicly. The waiting continues. Sorry Bros.
THE WAIT IS OVER NOW: << (The Answer)
For more breaking news in sports, continue to come to
Will be turning into
http://SorryBroSports.com
this week.